Bitter Sweet Love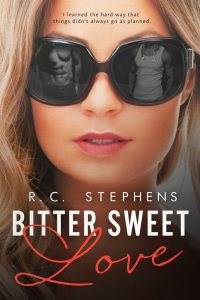 After enduring an abusive childhood and having her heart broken by the only boy she trusts, Alexis White vows to never let anyone hurt her again. She's left her troubled past behind and starts a new life at college. For the past seven years, her social calendar has been filled with frat parties, drinking, and meaningless sexual hook-ups. Until one night she unexpectedly gets saved by a tall, dark, and handsome French foreigner, Luc Blanchard. He's charming, sophisticated, and very interested in Lexi, who has presented herself as a challenge when she tells him relationships aren't her thing.
She finds herself sucked in by his own intriguing past. But everything changes when Dylan Priestley, the gorgeous boy who broke her heart and shattered her faith in friendship and love, suddenly shows up in her life again while back home on a visit. Dylan doesn't hide his feelings for Lexi, but she can't forgive or forget being betrayed by the one person she ever truly loved.
Despite the pain Dylan's caused her, Lexi is once again drawn to the blue-eyed-boy-next-door. Will Lexi choose the man who seems perfect but hides a dark side or the boy who smashed her heart into pieces so many years ago?
Twisted Love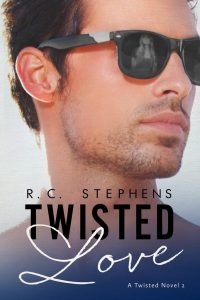 It's always easy to say what one should have or could have done to change the events in their life, but what happens when it's too late? When the damage is already done? Do I just give up? It's hard to see a way out when I am lost in a sea of pain and have to face the realization that a chain of bad choices put me in my present state.
I've always believed I was a fighter, but somewhere along the line I forgot that, I gave up, I broke down. But here's the thing, I wanted to be better, I wanted another chance to do better.
Don't you think I knew all along that Dylan was my light, my love? I did. But like I said love is twisted.
When someone falls victim to their worst nightmare do you catch them when they fall or do you turn your back on them? I know I shouldn't question this, but Luc understood my inner turmoil. Two broken souls, our bond almost seemed unbreakable. Almost.
I've met obstacle after obstacle. It's laughable that I thought the threat would end with Luc. The threat is real, the fear I feel when I look over my shoulder is all real.
I'm Alexis White and I've learned from my mistakes, the question is: will I be brave enough to give away my heart forever?
Wild Cards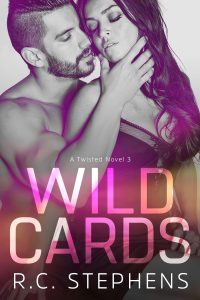 She grew up with love but tragedy took everything away from her.
He was forced into a life that he hated and was drowning in darkness.
They both lost hope…
They both looked for ways to numb the pain…
To him, she was unpredictable and alluring. To her, he was a dark knight with a shady past. What happened next was unexpected. Their chance encounter was not chance anymore. As their worlds collide and their impenetrable walls are infiltrated, these two dark souls are forced to face the one thing on earth that scares them the most… Love.
This is a standalone novel and does not need to be read with books one and two of the Twisted Series.  FOR MATURE AUDIENCES ONLY.